Looking for an escape room in english in Paris?

You are in the right place.
Gamescape offers three escape rooms inspired by the history of Paris. All our escape rooms are translated into English
. It was our desire, since the opening of Gamescape in August 2014, to offer escape games accessible to English speakers. The clues distilled by our Game Master are either in English or in French. During the briefing, you simply have to communicate your preference to your gamemaster so that he helps you in the language of your choosing.
In the escape room, the clues have both a French version and an English version.
This allows multilingual groups to coexist and solve riddles more easily without being bothered by the language barrier. 
How to book an escape room in English?
To book one of our three live escape games in English, you simply need to
make a classic reservation on the website
. Since the escape rooms are already prepared to be playable in both languages, you do not need to warn us in advance. We are always ready to welcome a group of English speaking players and we are always happy to talk with foreign teams about the differences between the Parisian escape rooms and the rooms they had the opportunity to discover in other countries.
How to organize a team building in English in Paris?
Would you like to know more about our packages for business groups? Looking for an original idea for your team building? The escape game is a proven concept and our team is renowned for its professionalism and experience.
For a team building activity of 3 to 18 people
, we recommend our three escape rooms located in Republic. These three halls can accommodate teams of three to five people. We welcome more exceptionally teams of six players if necessary. 
For a team building activity of 18 to 54 people
, we propose a giant escape game at "le secret de l'île". This game is very popular with large corporate groups because it allows all players to play at the same time, the same game and in the same space. This game is also available in English. Note however that, unlike our escape rooms in Republic, it will be necessary to choose between English and French for this adventure. 
For a quote or information abour our escape games and team building activities, contact Irving on 06 64 33 23 84 by mail,
[email protected]
or via our contact form.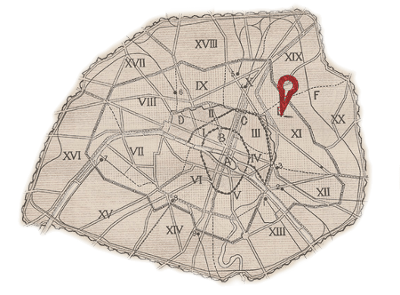 Gamescape is openned:
Everyday from 10Am to 8PM.
Our three escape rooms are located at:
17 rue de la pierre levée, 75011 Paris
Reservation needed.
We recommend arriving 10 minutes early for an optimal experience.
Mail:
[email protected]
Telephone: 0033 1 77 12 23 62 or 0033 6 64 33 23 84