A brief history of escape game and its real live version.
The name "Escape games" first refers to a genre of video games based on point and click actions. In these virtual games, the player is usually locked in a room and must interact with objects and solve puzzles to escape and complete the game. Mostly developed to be played on a web browser using the mouse , the mechanisms are similar to Pc games like Myst or Broken sword.
 
Nevertheless, the escape games have their specific set of rules. A simple scenario and a minimalist atmosphere, a first person view of the game, no non-player character to emphasize isolation.
 
In 2004, Toshimitsu Takagi develops "Crimson Room", an escape game that will be rather successful, especially in Japan where the word Takagism is now associated with this type of game. Many versions of escape games exist, the player does not always seek to escape and recently a game like "the room" on tablet took the key aspects of escape games but adapted it in an original way.
 
 
Recently, these games made their way into the real world and are known as live escape game or real escape game. This new trend first began in Japan , and then got really popular in China. The success of live escape games  enabled many escape rooms to open worldwide. In some cities, such as Singapore and Budapest, it is practically a specialty.
 
Unknown in France a year ago , real escape games made their first appearance in December with Hinthunt a Hungarian franchise. Since then, a real craze has taken the french capital and many original escape rooms have opened. Among them, Gamescape, created by three life long friends with a passion for games and a deep love of Paris, Nicolas Verdun, Delphine and Irving Le Hen.
 
Gamescape takes players through Paris' history where they will either try to escape from a royal prison and follow the footstep of the man in the iron mask, or be interviewed by Gustave Eiffel in very pecular way. Finally Gamescape's players can time travel to medieval paris where they need to find the philosopher's stone or be trap in Nicolas Flamel's Tavern.
 
 
The live version of escape games has many advantages over their virtual counterpart . The game is played in teams rather than alone and it allows players to be actors of their adventure. Time is limited , usually around an hour to put extra pressure on the players. This makes it a well rounded game that seduces both man and women, teenagers and adults alike.
 
 
The question remains, would you be able to escape ?

The Gamescape team welcomes you every day of the week, from 12h to 22h, from 10h to midnight on Saturdays and from 10h to 22h on Sundays.Reservations are made online. A game session lasts 60 minutes maximum and costs between 19 € and 29 € per player depending on the time and size of your group.For any question, call us at the opening hours at 01.77.12.23.62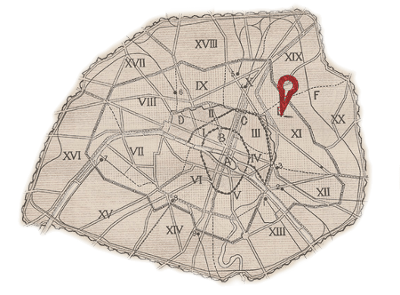 Gamescape is openned:
Everyday from 10Am to 8PM.
Our three escape rooms are located at:
17 rue de la pierre levée, 75011 Paris
Reservation needed.
We recommend arriving 10 minutes early for an optimal experience.
Mail:
[email protected]
Telephone: 0033 1 77 12 23 62 or 0033 6 64 33 23 84