Escape Game Team building and Incentive in Paris
Live escape game, an original idea for your team building
You wish to find an original and fun teambuilding activity in the heart of Paris ? Live escape game is the hip and happening new concept for incentive seminar. Teamwork and communication are the core of live escape games. Thanks to our team of gamemasters, your colleagues will have a great time in our escape rooms.
Here are some good reasons to choose a live escape game for your team building activities:

A mental challenge
Gamescape's riddles will put your neurons to the test! No knowledge needed, just the pleasure of racking your brains.

Your time is limited
The pressure rises as the minutes go by. Will your team break or escape?

Teamwork is key
In an escape game there is nothing more valuable than your teammates. The heart of the game is based on communication, organization and collective motivation
Two turnkey solutions for your team building activity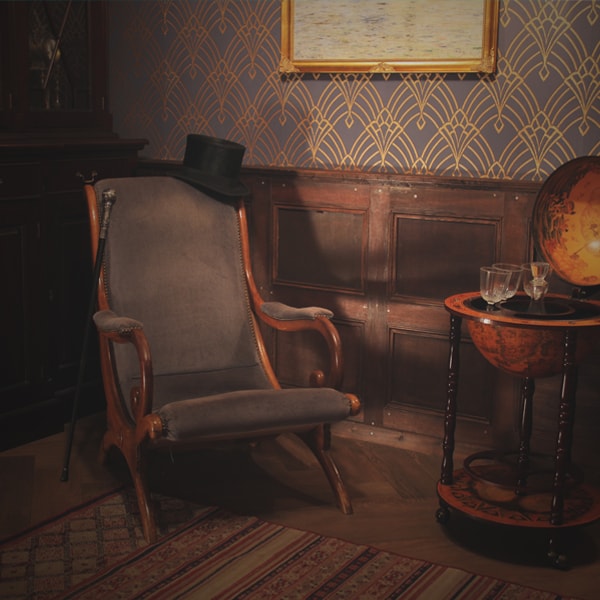 Teamwork is key
The three escape rooms at Gamescape, located near the Republique square, have welcomed more than 40,000 players since 2014. Our rooms and the team of Gamemaster who welcomes you have received the To federate small teams, to have a good time between colleagues, for a successful team building choose Gamescape.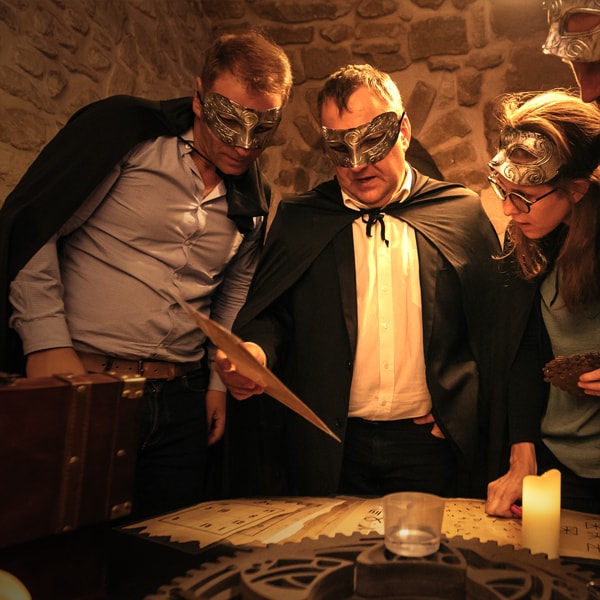 Team building in giant mode
To meet the demand of larger groups, the Gamescape team has developed an escape game that allows all players to play the same game, at the same time and in the same place. This giant escape game  can accommodate groups ranging from 18 to 200 players. We recommend this formula if you are looking for an unusual and unusual experience.
Find out why our live escape games are perfect for your team building seminar!
An original concept for everyone
Created in 2014, Gamescape is a well established live escape game company in the center of Paris. Our gamemasters are passionate and professional and our escape rooms have a very good reputation. We helped all sorts of companies organising team building events with our escape games. We have different options wether you want to organise an escape game for three players or for fifty.
Success guarantied
Live escape game is an indoor activity, neither, rain, wind, snow will ruin your teambuilding seminar. Our lobby can be used for private cocktails.

With a satisfaction rate of 4.88/5 on Trip Advisor since we oppened in august 2014, we are fairly certain you will have a good time in our escape rooms. Gamescape is a fun, challenging and exciting activity for everyone.
Teamwork and core values
Our three live escape games are designed to emphasize teamwork and team cohesion. Players are briefed before the game, we give advices and tools for players to use during their adventure. A gamemaster will follow your team's progress in the escape room through a video camera. He can also give you hints and tips during the game.

Our escape games can be played both in english and in french at the same time. Clues have a french version and an english version. Our gamemasters speak english fluently and love to have the opportunity to share their knowledge with foreigners.
Get in the game
Live escape game is appreciated by men and women alike. Wether you're twenty or fifty, the thrill of the game, the puzzles and riddles, the great scenery of our escape rooms makes it a truly enjoyable moment to share with your teammates.

Chances are, your coworkers have never played live escape game before and they will be glad to discover this new experience. And if they have already been locked in an escape room before, then they will appreciate the opportunity to be better at it ! That's right, with every game you play, you tend to communicate better, think faster and work better with others.