Reviews about our live escape games
⭐⭐⭐⭐⭐
Excellent moment! To do without hesitation!
Reviewed January 2018
We had a great time with our family of 7 and 9 year olds. For this first adventure with them, we chose the following adventure: "Interview with Gustave Eiffel". We failed our mission but it was very close! THEM team will return to take revenge! Everything was perfect. Thanks to the Gamescape team!
⭐⭐⭐⭐⭐
So exciting!
Reviewed February 2018
We tested in team of 5 the adventure of the
dungeon of the Bastille
, guided by Lisa (our sparkling and smiling gamemaster!). We came out alive 5 minutes from the end! Exciting, energizing, fun ... and rather addictive!
The next adventure will not be long coming !! ;) 
⭐⭐⭐⭐⭐
Awesome
Reviewed February 2018
Have participated in 2 couples, it was great. We had taken the easiest or rather the least difficult, 50% success. We finished at 55 minutes the enigma, without seeing the time pass. We will come play there again. 
⭐⭐⭐⭐⭐
Great time with friends
Reviewed January 2018
Super escape room settings, the riddles were twisted enough to be interesting, and a beautiful role play immersion with a gamemaster that took really good care of us! Great experience, we will return to play the other rooms! 
⭐⭐⭐⭐⭐
An excellent brainstorming
Reviewed January 2018
My first experience of escape game and I am conquered, it was exciting, fun, and surprising as the difficulty is well dosed. Count also on the valuable help of the gamemaster in case of blockage. It was cool! 
⭐⭐⭐⭐⭐
Top TOP TOOOOP
Reviewed January 2018
For a first escape game, a very good outing with friends! Nothing to say about the staff, all smiling and very welcoming! 
The escape room and the decorations were very well done! We even got to wear a costume! The theme in the room where we were was just great! With the little background music and everything !!!
Very very good memory!
We had done the intermediate level so we will return to the next level !!
For an escape game, we highly recommend this place! 
⭐⭐⭐⭐⭐
Well-designed escape games!
Reviewed 9 January 2018 
A very pleasant moment. Escape game very well thought out, without traps with a high quality accompaniment. All with enough difficulty to feel challenged!
All these reviews were written by our players on
Trip Advisor
! Feel free to read what people thing about our escape games!
Convinced? Book your escape game quickly!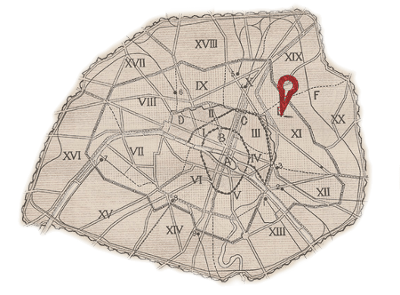 Gamescape is openned:
Everyday from 10Am to 8PM.
Our three escape rooms are located at:
17 rue de la pierre levée, 75011 Paris
Reservation needed.
We recommend arriving 10 minutes early for an optimal experience.
Mail:
[email protected]
Telephone: 0033 1 77 12 23 62 or 0033 6 64 33 23 84