Frenquently asked questions about escape games
How long does a game last?

Each game lasts an hour at the most. Expect to spend around 90minutes on site as we take some time to explain the game and we also enjoy talking with the players after their game. After each game our staff needs roughly 30minutes to reset the game which is why our booking system time slots indicate 2hours.


At what age can you play at Gamescape?

Children are welcome to play in our live escape games by the age of 9 year old. They should be accompanied by at least two adulte. By the age of fifteen, only one adult is required.
 
 
What measures does Gamescape take against Covid-19

When your group arrives, a Gamemaster will provide you with hydroalcoholic gel. Wearing a mask is not mandatory anymore. Gamescape's team disinfects as much as possible the contact surfaces and the game elements and scenery between each session.


Can women expecting a happy event play in Gamescape?

Pregnant women can play in Gamescape since there is no physical requirements or frightening elements. However, we inform you that it is necessary to take the stairs down to the jail room.


Can I change or cancel a reservation?

You can book our games online, once your booking is made there is no refund possible. If for any reason you are unable to come to your game contact us by phone and we will do our best to find a time of your convenience to reschedule.

 
Can we play if we are 2 players?

You can play as couple in the escape room "the jail of la Bastille". We have a special rate for two person teams during off peak hours.

Can we play if we are 6 players?
We can accomadota a six player team in "interview with Gustave Eiffel". This escape room is big enough and difficult enough so that you can play with a larger group.


Are we locked for real?

Yes, You are locked but an emergency button is located next to the door that allows you to leave at any time should you need it.

 
Can we come in groups?

Gamescape can accommodate 15 people at a time. Groups, friends or colleagues are welcome. Each live escape game being specific, the teams will not play the same scenario. If you are planning a larger event that lasts longer, we can arrange a Gamescape marathon in which the teams will switch escape rooms, and that lasts an afternoon. Please contact us so that we can find a solution that suits you.
 

Is Gamescape accessible to all?

Two rooms at Gamescape are located on the ground floor and are large enough to accommodate wheelchairs or crutches. However, manipulations of small objects are involved in the game as well as auditory and visual clues. We invite you to include at least two persons without disabilities in your team; Do not hesitate to contact us so that we can best meet your needs.
 

Do you need strengh or stamina to play a live escape game?

There is no need for force or stamina in our games. Only a little bit of dexterity is required.


Does the game require specific knowledge?

No need to have a PhD to come play at Gamescape. Logical thinking and cohesive team are the best tools at your disposal.

 
Which one of Gamescape's Live escape game should you choose.

As our rooms are very different from one  another, you can choose your room according to your own affinity with each scenario. We also show you the level of difficulty for each room: the dungeon of the Bastille is designed as an introduction to escape games. The interview with Eiffel is a little more complex and should please numbers enthusiasts.

 
Is the game filmed?

In every real escape game, a game master watches over you and helps you if you're stuck. He is not in the room with you but he can see and hear you . Neither image nor sound is recorded.


Can we offer a gaming session to a friend?

Win the best friend price with the best present ever! Gamescape gives you the possibility to offer a live escape game session with a gift certificate. Buy them online, in our shop or even by phone.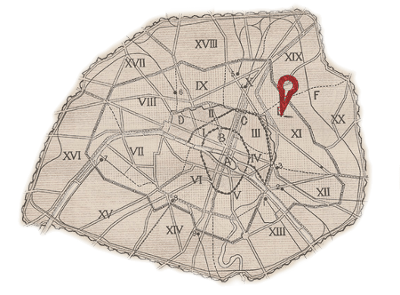 Gamescape is openned:
Everyday from 10Am to 8PM.
Our three escape rooms are located at:
17 rue de la pierre levée, 75011 Paris
Reservation needed.
We recommend arriving 10 minutes early for an optimal experience.
Mail:
[email protected]
Telephone: 0033 1 77 12 23 62 or 0033 6 64 33 23 84