Live escape game gift certificate
Notice to all claustrophiles!

This year you discovered this extraordinary game that is the live escape game. You have undoubtedly talked to everyone about this adventure. We have two good news for you!

The first one, for the end of the year festivities Gamescape will be open on Monday December 22nd and 29th, it's Christmas after all!

Then since it's Christmas, we allow you to win the best gift award by offering a live escape game at Gamescape to all your loved ones.

With our gift coupons, available in stores, you can initiate them to this fun and unusual experience.

The price of the gift voucher is the same as our normal rates at peak times so that people who receive this gift can come at any time of the week.

Voucher for 3 persons: 87 €
Voucher for 4 people:  108 €
Voucher for 5 people: 125 €

If you cannot or do not want to move to the store, you can also send a check with your mailing address and the custom code that you want to appear on the gift coupon, for example: joyeuxnoelraphael. We will then send the coupon by mail.

If you have any questions feel free to call us at 01.77.12.23.62

Gamescape's staff wishes you the best for the holiday season! Merry Christmas!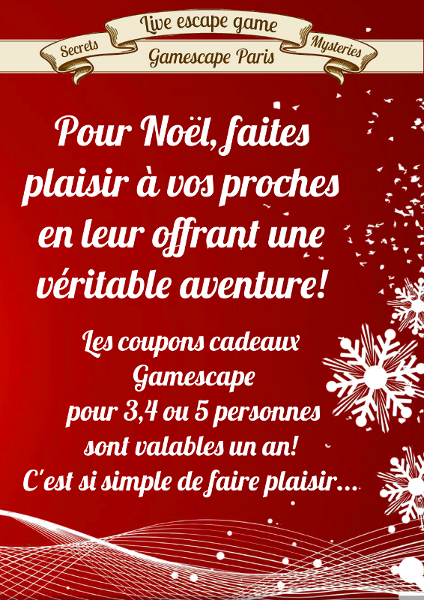 Gamescape is only a  5minutes walk from the subways République (line 3,5,9,11) and Parmentier (line 3)
We are located at 17 rue de la pierre levée 75011 Paris
Gamescape is open from 12pm to 8pm during the week
and from 10am to 10pm in the week end, reservation needed.
Mail:
contact@gamescape.fr
Telephone: 0033.1.77.12.23.62