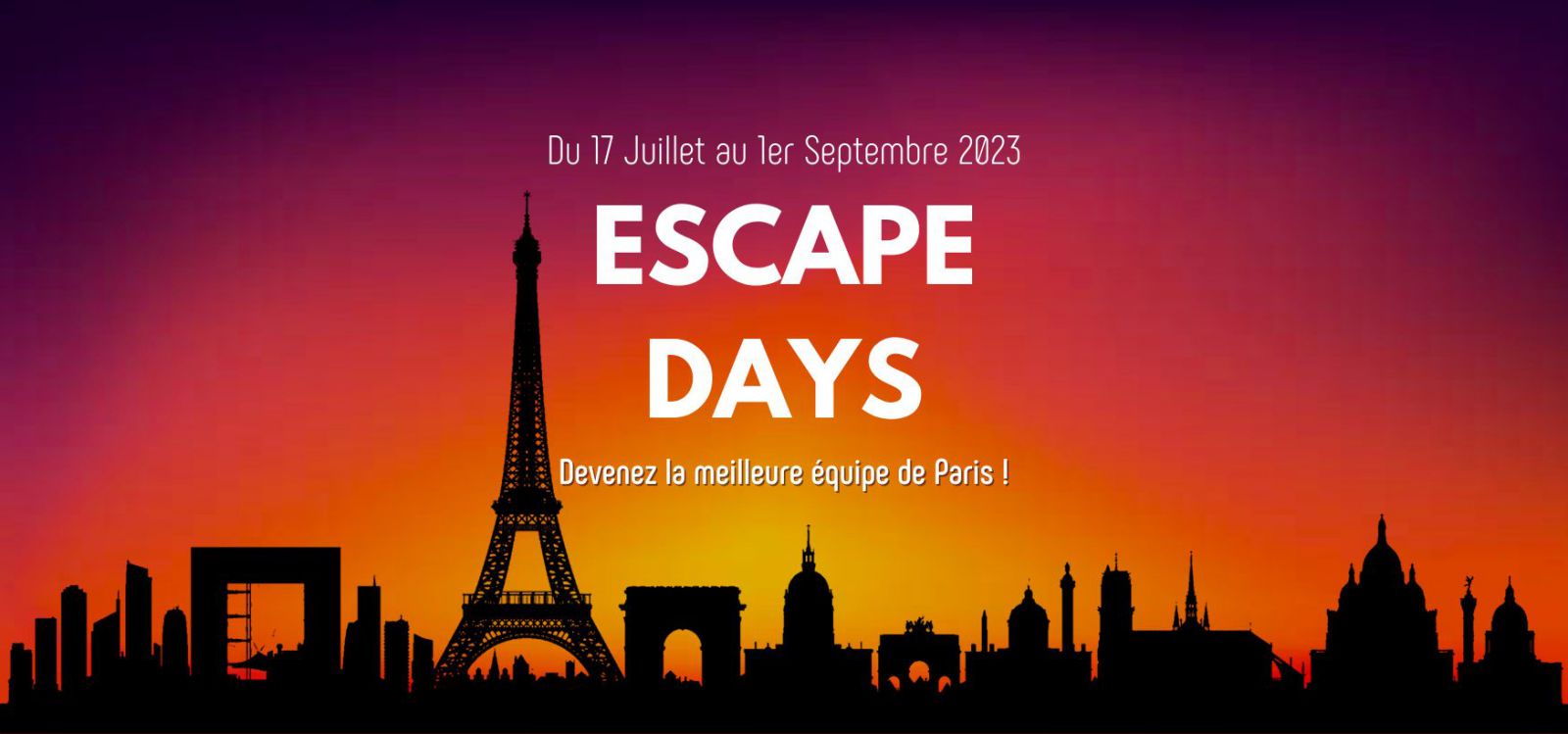 Escape Days 2023 - Gamescape is participating in this new edition of the Parisian Escape Game Marathon.
We are thrilled to announce that Gamescape, your go-to destination for thrilling escape game experiences, will be joining the highly anticipated Escape Days event!

Escape Days brings together 16 renowned escape game establishments for an extraordinary competition like no other. From July 17th to September 1st, get ready to embark on an unforgettable adventure, filled with exciting challenges, captivating puzzles, and thrilling excitement. As a team of 3 to 5 players, play in 5 escape games to vie for the title of the best team in Paris.

Gamescape is honored to be among the 16 participating establishments in this epic event. Our dedicated team has worked tirelessly to create captivating scenarios, meticulously designed settings, and ingenious puzzles that will push your limits and leave you with lasting memories.

The cost is €20 per person per escape game for a team of 5 players, totaling €500 per team for all five escape game sessions.

Whether you're a beginner or a passionate escape game enthusiast, Escape Days will provide an exhilarating opportunity to test your skills, unravel complex mysteries, and strengthen teamwork. At Gamescape, we are committed to delivering exceptional immersive experiences, accompanied by a warm and passionate team dedicated to your enjoyment.

Escape Days at Gamescape is the perfect chance to dive into a world of suspense, where every detail matters and your problem-solving abilities will be put to the ultimate test. Whether you're passionate about history, an avid puzzle solver, or simply seeking adventure, Gamescape has crafted captivating scenarios tailored to suit every taste.

Prepare to push your limits, unleash your inner detective, and create unforgettable moments with your team. Don't miss out on this unique opportunity to participate in the most thrilling competition of the summer!